Jotul Stoves at the Best price visit Boston Heating
Sale on all Stoves at Boston Heating Special offers on Jotul Stoves.
Jotul Stoves are at Boston Heating for the Stove connoisseur.Made from Cast iron the range of decorative woodburning and multifuel stoves is very popular
This is a small cast iron stove in classic design, there are three different versions available. Now approved for wood burning in smoke controlled zones.
Jøtul F 100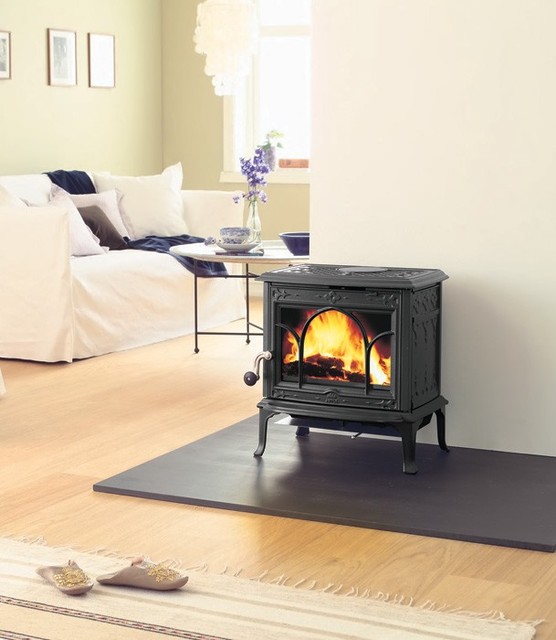 Clean burn cast iron stove with air wash system that keeps the glass clean
Stove with multi-fuel grate that allows other fuels besides wood to be burned.
Surface in maintenance free blue-black enamel or black paint
Enamel surface simplicifies the maintenance, prevents rusting and preserves the ongoing appearance year after year
Flue outlet on top and rear
Jotul F100 stove comes in two colours and two versions as in our showroom
Jotul F100 Cleanburn and Multifuel Stoves are two of the most popular Jotul stoves available in the UK. Visit us at the showroom to discuss your Jotul requirements
Jotul F3 Stove TD
This is a medium sized stove in classic design, with a large glass door which gives a fantastic view of the flames.
Jøtul F 3 blue black enamel
This Jotul stove is a Cast iron stove and offers clean burn technnology with air wash system that keeps the glass clean
Surface in maintenance free blue-black, ivory or brown Majolica enamel or black paint
Choose an enamel finish to simplify the maintenance, prevents rusting and preserves the ongoing appearance year after year
Easy to install with flue outlet on top, rear and both sides
Ash solution is standard
Jotul F373 White Enamel, Black Enamel, Matt Black
The Jøtul F 370 Concept was designed by the renowned Norwegian design company Hareide Design. The concept features a wide range of beautiful stoves: Jøtul F 371, Jøtul F 373, Jøtul F 374, Jøtul F 375 and Jøtul F 376. The stoves have innovative shapes and details with exciting diverse materials. Large side windows give a fantastic view of the flames. The Jøtul F 370 Concept has received a number of prestigious design awards such as the German "red dot design award: best of the best", the Norwegian "Award for Design Excellence" and the US Vesta Award.
There are many ranges to the jotul from the traditional to the ultra modern like the Jotul F162 and Jotul f 163 which won a design award for it's sleek lines. Coming with different leg options to suit your room.
Convection wood burning stoves as the F262 which comes with a handy companion set located in the plinth door.
Modern line as the Jotul F361 concept with its large glass front giving an amazing view to this wood burning stove. Also coming with leg, base and pedestal options.
The Jotul F373 showing glass on all 3 sides so no matter where you sit in the room you can always see the flame in the stove. Also coming in enamel brown , Black or in soapstone. Or the F 370 coming in a log base pedestal with door or glass fronted base.
Jotul F370 with high top concept with a heat storage system which releases heat slowly in to the room through heat bricks which are stored in the stove.
Jotul F470 this stove has also won awards and you can see why with it's sleek lines and large glass view of the fire this is sure to add beauty to any room. This Jotul can also come with a tear drop pedestal or aluminium flush sides or opaque black glass or soapstone side panels.
Jotul Cube Cube 200 ws this modern line stove is new to the jotul collection and comes with with many options, Including a wood storage system which is attached to the side of the wood burner. Or maybe the optional fitted companion set and log holder with lava sides the choose is all yours.
Classic lines give a traditional look as the Jotul F602 N, F118 with a 6 kw heat output. The most popular multi fuel stove would be the clean burn, Multi fuel F100 stove with options of a plain door or gothic tracery, lattice glass. This multi fuel stove has a built in grate as standard and comes in a black painted finish.
Jotul F3 is the most advanced model in the jotul range with clean burn technology for greater efficiency and controlability. Giving a traditional feel and having options on the glass front as well as colour options.
Jotul F8 giving a nominal heat out put of 8kw and max 11kw this Jotul F8 allows air to enter the fire box from 2 directions for more efficient combustion. This cast iron stove is sure to be come your best friend on a cold night.
Jotul 180 Maxi Harmony has a clean burn technology and the Jotul air system as standard. This stove as canopy options which would suit a large inglenook . With interchanging legs it can be free standing or show a base plinth which aids air convection.
Jotul Cassettes A modern twist fire can be inserted into the wall allowing more space within the room. These outstanding wood burning fires have many different looks. The Jotul 160 a simple looking stove with a cast riven slate finish to the Jotul C21 with a very smart black paint finish as the C22 or the Jotul C31 in a blue black enamel. Heat out puts are 6kw to 8kw depending on model's.
Jotul F162 This is a small wood stove with a new and unique look by Hareide Design. A convection panel makes this model especially suited for corner installation with short distance to combustibles.
The stove is user friendly with only one vent to control both the lighting and primary air.
This vent makes it easier to use the stove correctly which ensures reduced fuel consumption and clean combustion.
Unique form by the renowned Hareide Design
Perfect for corner installation
User friendly with only one vent to control both the lighting and primary air
Over 80 % efficiency from 3-7 kW
Optional outside air connection
Jotul F163 This is a small wood stove with a new and unique look designed by Hareide Design. The size and shape of the stoves makes it suitable for both corner and wall installation.
Jøtul F163 won silver in the Best Heating Product category in House Beautiful Awards 2011

Clean burn cast iron stove
Side windows give extra good view of the flames
Side glasses with a special surface that leaves them free of soot
User friendly with only one vent to control both the lighting and primary air
Optional soapstone top is a beautiful and becoming addition
Optional outside air connection
JOTUL ALSO HAVE GAS FIRES PLEASE SEE FIREPLACES FOR MORE INFORMATION