Scan Wood burning stoves at Boston Heating
Find the best deal on a Scan stove or a scan inset stove. Visit our great showroom, for many deals and stoves, parts and fitting!

Scan wood burning stoves are at Boston Heating Ltd and we have the Scan 4-5 Traditional Stoves and the elegant and contemporary Dsa cassette Inset Live on display. The quality of this stove is assured but when you see these stoves live on display you will be amazed . The Clean burn system's are second to none but don't take our word for it come in and see it for yourselves.
Scan has a very wide range of wood-burning, Log Burning stoves made to suit your tastes. Small and large. Affordable. Functional. Big, luxurious installations. And all of them in a beautiful, classic, yet modern design.
All Scan wood-burning stoves are environmentally neutral and use energy optimally.
The Scan 50 series consists of a range of round stoves, which can be placed almost anywhere in the room or home. All these stoves can be fitted with a revolving base if the product is fitted with a top outlet. The revolving base enables you to see the flames from anywhere in the room.
Clean combustion system that protects the environmentThe practical lid for the ash drawer is standard on the Scan 50Glass or heat-storing soapstone top plate (optional extra)Option of fresh air intake or closed combustion (with a fixed base) (optional extra)
Scan 57 This is an innovative wood-burning stove with the capacity to make lots of firewood. The attractive stainless steel details make this fireplace a unique piece of furniture.Available with a turnable plinth, enabling you to enjoy the flames from different angles in the room The stove has a large combustion chamber with space for logs up to 50 cm long The stove is supplied in black with stainless steel side panels.
Scan 58 Wall Soon to be on display at Boston Heating

The Scan 58 Wall is a wall-mounted version of the award-winning Scan 58 series. It is available either with or without side glass, and you can choose between black and aluminium trim. The Scan 58 Wall looks like a beautiful work of art on the wall all year round, particularly when the stove is lit.
Easy to operateThe handle stays cool to the touchThe combustion system makes for cleaner flue gases and cleaner glassThe Scan 58 Wall carries the Nordic Eco-label: "The Swan"
Scan 58-9 / Scan 58-10
Two of the most popular models in the Scan 58 Series are now available with soap stone.
Scan 58-9 and 58-10 give soap stove stoves a new meaning. Our designer has managed to dress the slim stove design with soap stone without renouncing the beautiful proportions. These new models are identical except for the choice of handles and trim in black and brushed aluminium.
With soap stoneBeautiful proportionsChoose between black and aluminium handles and decorative trimInnovative designNordic Swan Ecolabel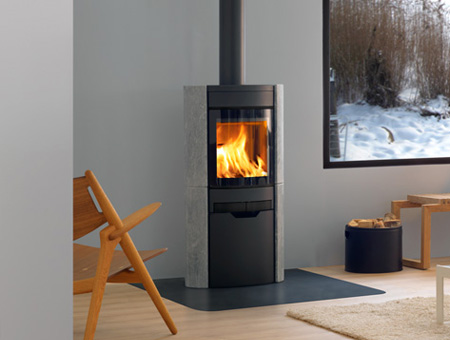 Have you seen the new Scan 66 now coming in an enamelled white finish a great addition to the family.